Gifts delivery to Rajahmundry
Gifts delivery in Rajahmundry Gifts category have been rated
4.7
out of
5
based on
66
reviews.
wide range of birthday Gifts collections 120 Order Gifts to Rajahmundry Birthday Gifts on sale, ranging from Rs.550 to Rs.6500 Birthday Gifts delivery in Rajahmundry, Gift Hampers, Combos, Show Pieces, Handicrafts, Kondapalli Dolls, wedding cakes, kids Toys, chocolate cakes, fondant cakes yummy tasty cakes Fondant Red Velvet Chocolate Trufle Kids Cakes sweets chocolates shall be delivered same day. Order Now For Cakes. | Order flowers to Rajahmundry | Order Gifts to Rajahmundry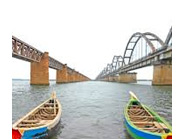 Gifts delivery in Rajahmundry
Gifts delivery in Rajahmundry, Birthday Gifts have been rated
4.7
out of
5
based on
66
reviews.
wide range of gift collections
180
Order
on sale, ranging from Rs.
450
to Rs.
6500
"

Excellent Gifts.

"

by

Jyothi

, Good service with good care for emotions!! the guys have made my Day. even with a short notice, order delivered perfectly on time.
Rajahmundry is a city on the eastern banks of the sacred Godavari River, in the southeast Indian state of Andhra Pradesh. It's home to the huge, riverside ISKCON Temple complex. North, along the river, Hindu devotees bathe in the Godavari from Saraswati and Pushkar ghats (bathing steps). The nearby Godavari Bridge offers river views. The ancient Kotilingeshwara Temple is dedicated to the Hindu deity Shiva.
KakinadaEshop.com delivers Send flowers to Amalapuram, Pithapuram, Ramachandrapuram, samalkota, Tuni, Tanuku, Rajahmundry, Eluru, other towns in Kakinada and East Godavari Dist at low prices through reputed online florists. Kakinada florist guaranteed delivery of fresh flower arrangements bouquets roses chocolates teddy bears, chocolate bouquet, wedding cakes and gifts.- Order Now For Flowers.- Order Now For Cakes.
.
Copyright © 2021. All Rights Reserved